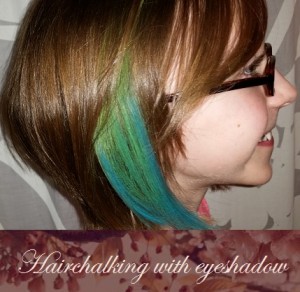 So I did a post on Hair chalking back in early 2014 but I am revisiting it and I also have a video to go with it! (To check out my old post, click here.)
Why I like Hair chalking:
Hair chalking is a really easy way to add some color to your hair on a very temporary basis. It will stay in your hair up until you wash it, though the vibrancy will fade. This is safe for both adults and kids alike. It is a great way to add some fun colors to your hair, without worrying about the commitment.
Things you will need:
High pigmented eye shadow- I have used MAC, Sugarpill and Sallygirl eye shadows without issues. It really depends on the look you are going for, but if the shadow you choose is not high pigmented it will not be as vibrant.
A wide tooth comb- the smaller the space between the teeth of your comb, the more shadow will fall out.
Working/light hold hairspray-  I generally use Kenra 14 or Big Sexy Hair, 'Spray and play'. You want the color to stay in place, but you also don't want it to be crunchy.
Paper towel or toilet paper- this is to protect your clothes if the product falls when applying it.
A clip or bobby pin to keep hair back
Walk through based off of video:
Section of the top layer of your hair. We will be applying the color to the under sections of your hair to prevent a separation band from being visible. Think about when professional color grows out, what do you notice? The roots/regrowth! Doing this step will prevent you from having a 'regrowth' look. We want your hair to look fun, but well done. *This step is only if you are looking to add color as high on the hair shaft as possible. If you are doing just the tips, disregard.
Take a small section (1/4 inch) of hair and comb through. Place toilet paper or paper towel underneath the hair you plan on chalking.
Take your eye shadow (or chalk) and lightly rub it on the hair until your reach your desired look. You can use multiple colors to create an ombre, just make sure they blend together. An easy way to do this is bring color A down to a certain point, and bring color B  an inch or two within color A blending it down into it's own section. You don't want it to be a blunt disconnection.
Take your working hairspray and spray the hair.  The reason why we use hairspray before combing it because we want to make sure as much of that color stays in the hair as possible.  Once the hairspray is dry, lightly comb your hair. Feel free to use hairspray one more time to set the look.
Repeat this in as many sections as desired!
If you have any questions, comments, concerns please do not hesitate to ask! Make sure you check out my video that goes with this walk through tutorial. Like, comment and subscribe!
<3 L