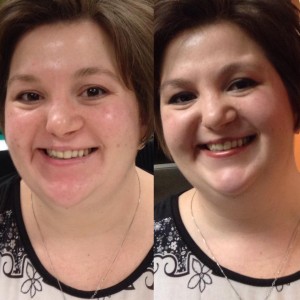 Thank you for being a model Sara! It was so great to see you!!
Sara is wearing #fierceneutral from Luis Casco's#beautiful beauty book, and she rocks it!!
Foundation: CC Cream in Light to Medium
Highlight: #crystalline; a cool toned shimmer highlight applied to the inner lid
Mid-tone: #spunsilk; a warm toned shimmer highlight; applied on the lid and under brow bone
Accent: #driftwood; a matte brown applied to the crease
Winged liner: #gelliner in black applied with an angled brush
Mascara: #ultimatemascara
Cheek color: #shyblush; a soft peach toned cheek color with shimmer
Lipcolor: #gingerbread; a red-golden lip color
I have known Sara since working for Caribou Coffee in 2006/2007! Sara is a hairstylist at Great Clips and is also in school full time. Sara, your care, compassion and work ethic are truly inspiring! You are impacting lives just by being you! I look forward to hearing about your volunteer work, journey with school and at Great Clips!! PS I totally want to check out karaoke with you sometime! It sounds like a blast!!! See you soon!!