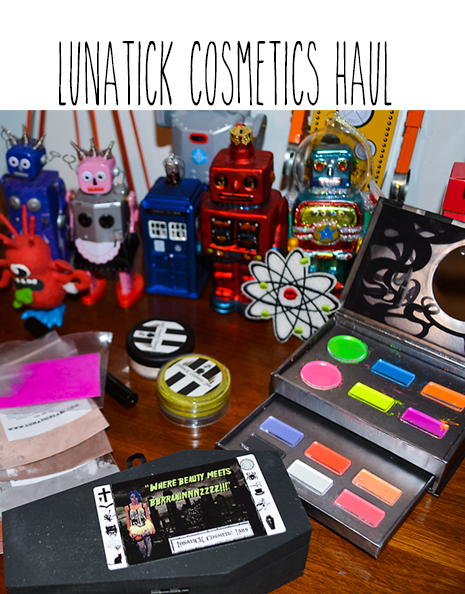 We're so excited to show off the latest makeup haul we've picked up from Lunatick Cosmetic Labs LLC! This brand is awesome because they offer sample sizes of many of their eyeshadows. If you're new to intense color makeup, this would be a great way to start off and see how you like it rather than picking up a full palette.
We've picked up the eyeshadow palette in the AlieNEON colors (at right) and we're way excited to see how using these babies go! These colors somehow look even MORE intense than Sugarpill Cosmetics eyeshadows and we're curious to see what kind of looks we can make with these hues!
Lunatick not only makes crazy eyeshadow colors, but also earth tones (seen at lower left in sample sizes!) and primers, as well as other products such as for lips. This packaging was fun to open as the box was FULL of glitter and they even sent a tiny, real wooden coffin to keep the makeup samples in!
Our favorites for looks of hyper-color are Sugarpill and BH Cosmetics. Sugarpill has fantastic color payoff and pigmentation, but if you aren't ready or willing to pay the price points of Sugarpill, BH Cosmetics is an excellent alternative as you can get entire palettes of super-pigmented colors for the price of 1-2 Sugarpill shades.
What makeup brands do you like for doing fun color? Let us know!