Recently, Laura alerted me to the existence of the website ShopMissA.com. The absolute first thing that should be noted about Miss A is that everything on the site is only $1. I was absolutely floored about this, and luckily, I was in the need for a few cosmetics. You can't beat the price of $1, so I decided to shop and see what I could come up with.
There are so many things available you can easily get lost in the site. Luckily, it's pretty easy to navigate through all the product categories. Although I love my Formula X nail polish from Sephora, the line is pretty expensive. I picked up a number of colors available on Miss A by brands LA Colors and Kleancolor, which I've had good luck with in the past.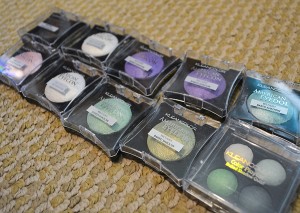 I also picked up some cosmetics, mostly by e.l.f. cosmetics and Kleancolor. The eyeshadows are all very pigmented and even moreso when applied wet. It seems difficult to find really good hues of mints and vibrant purples in eyeshadow, and I was really happy to find some.
I think I'm most surprised by the size and quality of the mascaras I received. Again, these were only $1 each, and are much larger, full of product, and had fuller wands than I would have expected for the price.
I was actually also pleasantly satisfied with the jewelry, as I wasn't expecting much. But the necklaces I received are all very solid, sturdy and heavy. The rings are my one big disappointment with the order, which isn't saying much as they were sold as a set of three.
It also took less than a week between the time I placed my order, and when it arrived at my door. All in all, I would definitely recommend the site to anyone looking for cosmetics, jewelry, and other accessories who is also a bargain shopper. I was pleasantly surprised by the quality and I definitely will be shopping there again!