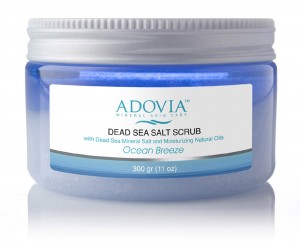 Product description:
Exfoliating the top layer of dead skin cells to reveal a younger looking layer of radiant skin. Deeply moisturizing oils infuse skin with luxurious hydration that lasts all day! This scrub is made with real dead sea salts. 100% pure and genuine for an infusion of 21 minerals essential to proper skin function. Great exfoliator and moisturizer. Works great in the shower or bath- Also a great hand exfoliator to use in the sink or foot scrub.
Shorts and sandal season has arrived so I was eager to try this product.  The salt crystals were an inviting shade of light aqua with a nice scent.  While the packaging stated Ocean Breeze, I would suggest something more in the family of Floral Gardens, either way the delicate scent was nice. As someone with really dry skin I was really excited to try this out. I love exfoliators! Who doesn't like that baby soft feel? Although I have used products like this in the past, I was a little thrown off by the lack of directions. When I do my reviews I try to think like the everyday consumer. For example, the product doesn't specify for use on wet or dry skin you use it on wet skin ps. The directions in general are vague, they say to use in a circular motion "until you experience the pleasant exfoliating effect"- This statement could be confusing to someone who has never used an exfoliator before.
My directions:
Wet skin
Use about a nickle size amount of product.
Work product onto skin, imagine you are using soap.
When your skin starts to feel really soft and smooth you can rinse it off with warm water. Moisturizing is optional and varies.
I had a few other people try this product out with me; My mom and my friend Kira whom I went to Cosmetology school with. All three of us generally enjoy using exfoliators like this. My mom and I have dry skin, and Kira has oily skin, I wanted to show results with both skin types. Between the three of us, we used it on hands, elbows, legs, knees, and feet/heels. I used it both dry and wet whereas they used it wet only.
I want to talk about the experience with using it in the shower, as it states it works great in the bath or shower. Upon unscrewing the jar lid, I discovered 1/4″ of mineral oil separated from the salt scrub. I found this interesting, because initially when used as a group we had already drained the "excess" oil, and what we didn't drain leaked out into the Ziplock bag I had stored it in.  As I was already in the shower, I had some difficulties sufficiently remixing them together as there was a significant separation.  I set about using the product  on my legs and heels, as I had already tried it on my hands and elbows.  The coarse salt provided ample exfoliation for my heels but was too much for my calf and shin area.  The mineral oil definitely provided lubrication, as I slipped from the slick oil now glistening on the bath mat. The salt was easy to rinse off; however, too much oil remained and my skin felt suffocated.  In hindsight, I should have drained the liquid again, as I do after opening a can of tuna.
The place I liked using it the most was on my elbows and heels as it made them feel baby smooth for hours. I couldn't "feel it" either so that was pretty cool. As for the rest, I didn't like how oily my skin felt afterwards. I realize that it states it will leave your skin hydrated all day long, I just don't like heaviness it left behind. As previously mentioned, my skin felt suffocated. One of my pet peeves is that oily feeling in between my fingers, toes etc.   The packaging says to follow up with their body lotion or body butter which amazed me. I have really dry skin and I can't imagine adding lotion let alone body butter after this. Honestly. I felt like using bar soap to remove the oiliness, which is rare for someone with dry skin as it dries your skin out more.
Due to the high amount of oil in the product I would not recommend this to someone with naturally oily skin. I have very dry skin, and this product was too oily for me. As a side note, I was using coconut oil for my moisturizer awhile back; I am not "anti-oil" I just prefer for my skin to look and feel great without product heaviness. Overall, I felt this product was not a good fit for me. The general consensus was, "I like it, but I don't love it." This product would be great for someone with dry elbows and heels. Have you used this product? What are your thoughts?
Sponsored Post