Four potatoes, big ones.
Peel them. Cut them into small pieces.
Unless you are weird and like big chunks in your potato salad.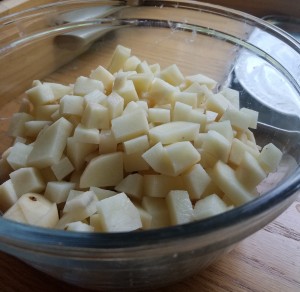 ~fancy~
Put those into Papa bear size glass bowl, cover with hot water.
Microwave for 10 minutes.
Next, take four or five big stalks of celery. Cut it small.
Drain your potato party, wear the oven mitts, this stuff is hot.
Take a potato smasher or whatever, a spoon. Break up the potatoes kind of. Nothing too extreme. We want them to be potato shaped BUT NOT MASHED and not hard logs…
Add your celery to the party.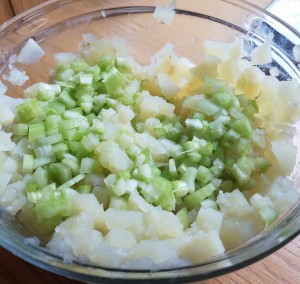 Add like, a few dashes of salt, you can always add more. Same with the pepper.
Add like this much mustard: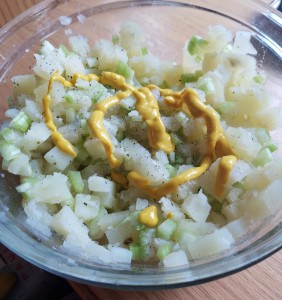 And maybe two hefty scoops of mayo. MAYO not miracle whip. But actually you are going to add like a dash of sugar so…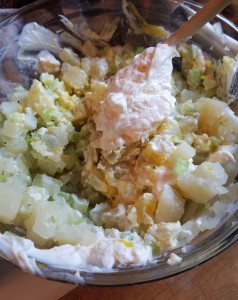 Add like a TSP of an onion, nothing too crazy but we want it for the ~flavor profile~
NOT FOR EVERYONE USER DISCRETION ADVISE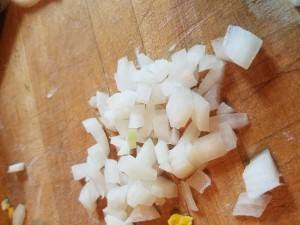 Onion game was too strong.
Dad: I personally wouldn't use onions
Dominick: I love onions
Two hard boiled eggs, dice them up, toss them in.


~FAST MOM FACTS~ I literally put two eggs in a baby bear glass bowl, filled it with lava water and microwaved it for 8 minutes.
Drained the water while wearing hot mitts, and added cold water. )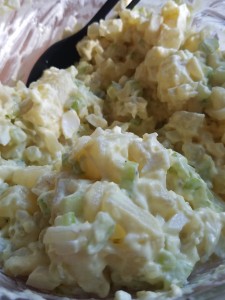 Stir everything together.
If you need more mayo this is your moment.
 Jacob: It tastes store bought. 10/10