What is Jamberry?
You have heard about it, maybe you have been invited to some parties either locally or through Facebook. Any rate, Jamberry Nails are a really cool product, think nail art meets sticker. They are nail wraps that are applied to the nailbed- they do not damage your nails either. They are really easy to apply and remove. The company states that when applied properly they can last for two weeks on hands and four weeks on toes. You can purchase a set for $15, how much would you spend for nail art in a nail shop? Even if you don't get manicures you are worth the $15 of pampering!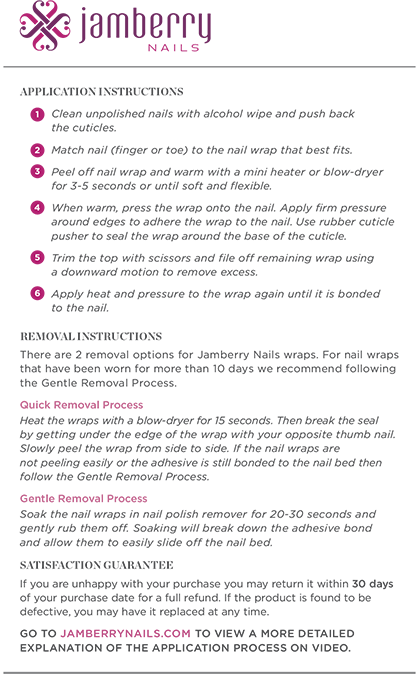 These are product application instructions found directly on Jamberry's Website.
My take:
First things first, let me just say that I really love the product. I love all of the different options, the possibilities are endless! I tried an accent nail on myself and each of my girls. I have a problem with biting my nails… like it's BAD! I know it's something I really should stop doing, but it's more OCD. I have noticed that when I have my nails done I am less likely to bite them. Due to how small my nails are I put on acrylics prior to the jams.
As a mom, I have realized most nail products don't last/end up chipped; I thought for sure it would start coming off after a few days. This is probably the main reason why the nail biting continues. My biggest 'concern' with Jamberry was how long they would last. Let me tell you, as long as you follow the instructions they will last.
I didn't get a picture of Avery's nails. She is just too fast! But they all had an accent nail. I figured that was a good starting point. Jamberry on my girls lasted about a week for the younger two and almost two weeks for the oldest. I think that is pretty great considering how active they are. It's summer time! We have been keeping busy this summer with a full schedule of activities! I am really impressed with how long it lasted for them.
Who could benefit from this product?
Seriously anyone who would maybe paint their nails. Even if it's on occasion. We have a bad habit of putting the needs of others before ourselves. We all need to learn that it's okay to do things for us. Everyone deserves to be pampered! For $15 this is well worth the cost of product AND if you buy THREE you get the fourth free! How cool is that? I know I will do updates on this because Jennifer sent me a bunch of stuff. I love the product and expect more reviews soon!
Be sure to check out Jendoza's Jams. Jennifer is a great friend of mine and really fun to work with! She would be more than happy to answer any questions you may have about Jamberry!