I am going to show you guys something really fun to do with your hair for Valentine 's Day. Or any other day really! This can be for yourself or for your children. It is called Hair Chalking. You can use either pastel chalk or eye shadow, but if you use eye shadow it HAS to be highly pigmented to work. In this case I am using the Sugarpill pressed powder eye shadow.

Step 1
Section the hair off for where you will be doing the streak. I always do it underneath a small layer of hair so it blends better.
---
Step 2
Take a small section of hair, about 1/4 inch thick.
---
Step 3
Hold the section of hair against the eye shadow. Rub the hair on the shadow. Go as high up the section as you want, but remember that the top layer of hair will fall over it.
---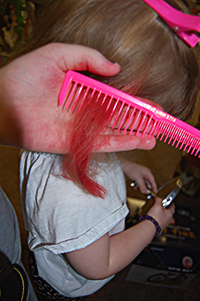 Step 4
Comb the hair with a wide tooth comb and hairspray to set.
---
This is a fun and TEMPORARY way to do something fun with your hair! It will wash out with one shampoo! I just love doing this and as you can see, Olivia loves it too!