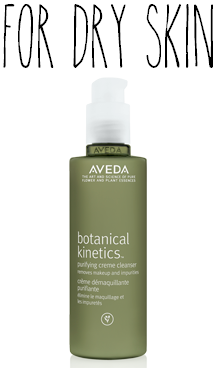 Aveda Botanical Kinetics Purifying Creme Cleanser Review
This facial cleanser is AMAZING!!! I have combination skin type: Dry and normal. For years I have been struggling to find a cleanser that wouldn't dry the crap out of my skin. My skin is especially bad in the winter time but my T-zone is generally super dry. Even though I cleanse and moisturize daily, my skin always looked like a desert! Even after the moisturizer!!
I have tried EVERYTHING under the sun. Dermalogica, Lush, Neutrogena, Clean and Clear… you name it! This is the FIRST that has worked for my skin!
This product is a cream base. It is strong enough to remove dirt AND makeup but it is also really smooth and leaves my skin really soft. It smells fantastic too! This stuff is so awesome that I don't feel the need to moisturize everyday. Even at -20 below (yikes) my skin still felt super soft and awesome!
It is a little pricey, and generally I am a penny pusher. This is SO WORTH THE MONEY though. SERIOUSLY. GO BUY IT. Let me know what you think of it if you do! kthnx.
You can get the Aveda Botanical Kinetics Purifying Creme Cleanser online at Aveda.com.
[button link="http://www.aveda.com/product/7468/16808/Skin-Care/skin-type/dry/Botanical-Kinetics-Purifying-Creme-Cleanser/index.tmpl" type="big" color="red" newwindow="yes"] Visit Aveda.com[/button]