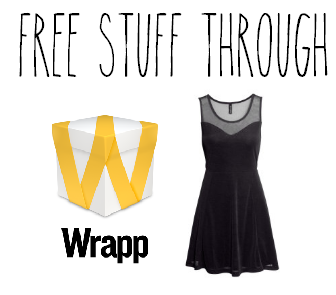 (Note: The dress pictured is one of the free dresses I got through H&M!)
So I have been getting tons of messages regarding the app "Wrapp" and getting free stuff through H&M (As well as other companies!). This is just a little post to explain it.
How it works is you have to download the app onto your smartphone. You can send stuff to your friends / your friends to you. H&M only lets you receive one every six weeks or so. Some can be used online, but H&M is in-store only. So bring your phone with, and open the app up at the check out. Go into "My Wallet" found in the upper right hand corner and wait for the clerk to use it on your purchase.
It says in the T.O.C. that they cannot give money back, but you also do not have to exceed the amount. So I can spend $5 instead of the full $6. Once you receive the gift you have only ten days to use it. So use it!!! Otherwise you will have to wait another six weeks! The other cool thing is sometimes they give away $12. I have gotten several FREE outfits off of these! H&M always has in-store promotions going on. I have gotten two dresses, three pairs of leggings, one pair of tights, six rings and a dressy top. All free. This is awesome stuff too. So go download the app Wrapp and get some free stuff!