Thank you for being a model Jessa! It was so great to see you!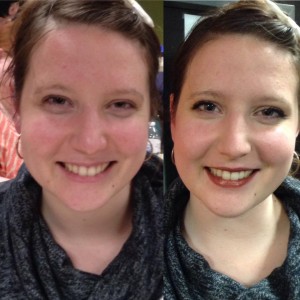 Jessa is wearing #fierceneutral from Luis Casco's#beautiful beauty book- doesn't she look great??
Foundation: CC cream in Very light
Highlight: #crystalline; a cool toned shimmer highlight applied to the inner lid
Mid-tone: #spunsilk; a warm toned shimmer highlight; applied on the lid and under brow bone
Accent: #driftwood; a matte brown applied to the crease
Winged liner: #gelliner in black applied with an angled brush
Mascara: #ultimatemascara
Cheek color: #shyblush; a soft peach toned cheek color with shimmer
Lipcolor: #gingerbread; a red-golden lip color
I have known Jessa since Kindergarten. Jessa is a fourth-grade teacher for Minneapolis Public Schools AND works for Pizza Luce. Jessa, not many people have the strength and compassion to teach, but you do! Your dedication is truly admirable. You are impacting the lives of so many more than you may realize. I look forward to seeing you again soon!