Hi everyone! Today I'll be sharing with you the haul I received from e.l.f. Cosmetics, plus a review of some of the products.  e.l.f. is a great, affordable brand with many items available at $1, $3, and $5 price points. I primarily chose to purchase from e.l.f. because of the Garden Party Kit promo (not currently available) which offered a large variety of makeup for an amazing steal at just $15.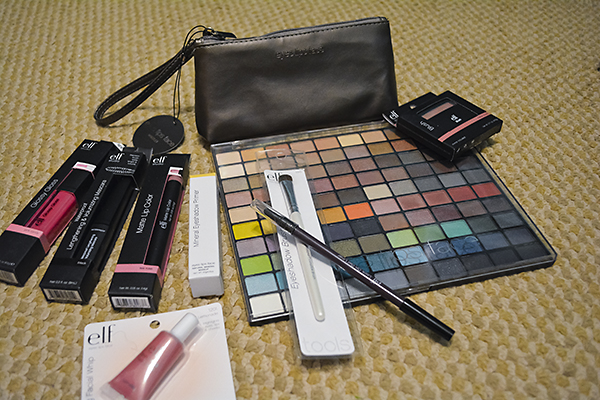 Although the Garden Party Kit offer isn't running anymore, you can still pick up these products from e.l.f. if you're interested in this fantastic collection of (inexpensive!) products:
Since e.l.f.'s products are so incredibly affordable, I decided to pick up a number of other items as well.  Keep reading for swatches of the lipsticks, glosses, and highlighters, followed by a list of links of where to pick up the rest of these items!

For reference on swatches, my skin tone is 1Y01 (Sephora Chart):

The e.l.f. Baked Highlighter in Moonlight Pearls is one of my favorite grabs from the haul.  In the above photo you can see wet (left side) and dry (right side) application, as well as with flash (left photo) and without flash (right photo).  The product tone is a bit too yellow in normal lighting for my skin, but diffuses nicely under full lighting.

Above are swatches of the e.l.f. Radiance Enhancer in Spotlight (left side) and Sunrise (right side), and shown with flash (left photo) and without flash (right photo).  The Sunrise color doesn't work on my skin in these swatches and seems too deep and orange on pale skin.  The Spotlight color is perfect however.  I foresee if I blend this farther out, it could make an excellent (and cheaper) alternative to Benefit Cosmetics' "High Beam" (my personal favorite highlighter!).
Last but not least, links to several other remaining items not swatched as seen in the photo below.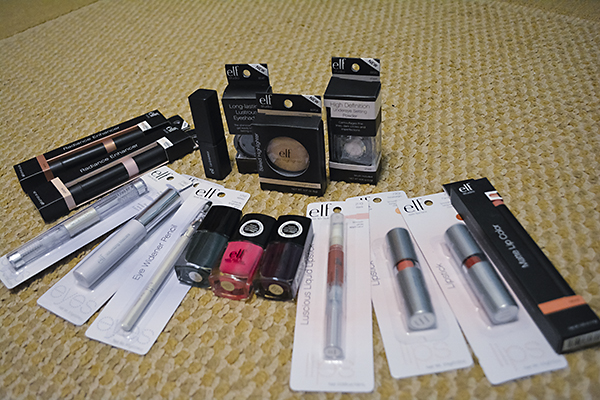 Have you ever used e.l.f. Cosmetics?  What kinds of looks would you like to see done with these products?  Let us know in the comments and we'll have a follow-up tutorial soon!