Today, I have been reborn and traveled here to tell you the tale of my birth… via Sensory Deprivation Tank float tank. Welcome to my ramblings of relaxation. Imagine the opportunity to take a nap in the water… without the drowning risk, and without having to hold yourself up. ~ hello world~
" WHAT IS FLOATING? FLOAT THERAPY LEVERAGES SENSORY DEPRIVATION TO ALLEVIATE MENTAL AND PHYSICAL PAIN, ACCELERATE MUSCLE RECOVERY, AND IMPROVE MENTAL CLARITY THROUGH DEEP MEDITATION. GUESTS FLOAT EFFORTLESSLY FOR SIXTY OR NINETY MINUTES IN TEN INCHES OF SILKY SOFT HEALING SOLUTION. THE SOLUTION IS MADE UP OF WATER AND 1000 POUNDS OF PHARMACEUTICAL GRADE EPSOM SALT. " *  
I did my float at Sanctuary Float Spa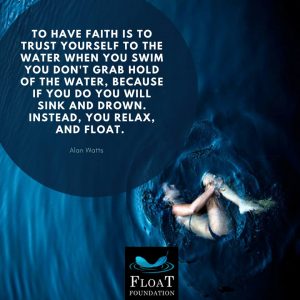 , formerly Float Foundation 
Many moons ago, I was in a nightly binge-Buzzfeed phase. Every night I would watch Buzzfeed videos this is no longer the case. It was on that one night… that my eyes were opened to a different world. A world where you can float effortlessly… potentially sleep on the water…
Because I had been watching Buzzfeed so often, I really felt like I "knew" the Buzzfeeders in this video. After their floats, I was amazed at how different they were and what a difference it had made. I was hooked. I needed to find a float. I spent a lot of time researching floats and for months, I stalked Groupon for float tanks… awaiting the day I could purchase such a fine event. As much as I wanted to do this, it had to be affordable for a family of five on a budget. I'm not going to lie, it's rare for us to spend money on experiences for us, parent life, ya feel?  I had such high expectations for this that after we finally scored float Groupons within budget… I couldn't go. For months. I kept putting it off because I was so what if it doesn't actually work. I will be so bummed. Not anymore.
Ironically, Sanctuary Float Spa is located right next to where I attend Mary Kay events. Talk about kismet.  Dominick gave me the low down on what door to enter right next to Dunn Bros patio.  Upon entering, SFS had such good flow of energy. I really liked the decor, lighting, color palette. I was greeted by TJ also the owner, and he had a very calm, welcoming energy despite the fact that I was running late mom life, sorry TJ, also construction sorry so sorry.  I let him know it was my first time and that Dominick had been in an hour earlier, he remembered him. I signed some waivers, he took me back to my room and explained the process shower, earplugs if desired, how to change the lighting, music, how to know when the float is done etc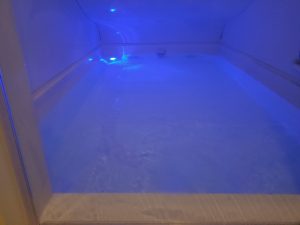 "Each private float room is clean and spacious and is equipped with your own private shower, fresh towels, and toiletries. " *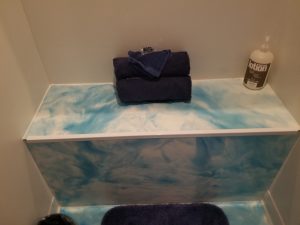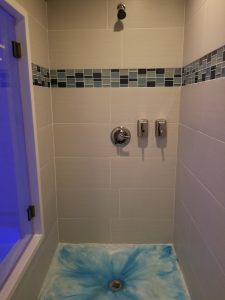 Can we just talk about this for a quick mome. I don't know what that shampoo conditioner combo was but it was maybe Tea Tree Lavender… maybe a Lemongrass… maybe not, either way, it was so on point for what I would dream about to both begin and wrap up my salty soak. Either way, I am digging it.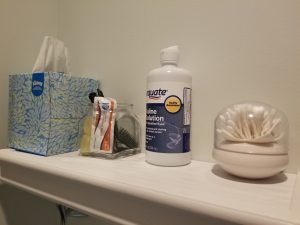 I was a little nervous about how it would go down because of my narcolepsy  + cataplexy. I figured Dominick could go first so I would know if he had issues but not directly tell him that was my reasoning sorry babe HA. 
First and foremost, this was an incredible experience. It took a little minute to get situated. I decided to leave on the blue light and the singing song bowl music, though I could go complete darkness, silence. I just had to test the waters ha ha ha. Truthfully I wanted to see how fast I could zen in just those conditions. I was pleasantly surprised. I was able to completely relax. This is like, some deep relaxation where if you haven't been there, you don't even know whats up… you need to go.  I can't even begin to attempt to find the words to explain this experience. Everything I heard in the Buzzfeed video, same. Everything.  Nothing matters, it's like you are in space. You are just a brain in a jar, floating like a cloud. You are literally a soul. Nothing matters. It is exactly everything I hoped and dreamed it would be.  I would definitely go again as Dominick would. I can understand how some with anxiety might be against the idea but I can assure you, this would be the best thing for you. Keep on the lights and the music and center. This is 100% worth every cent. We did our floats yesterday and still feel zen today. Thank you TJ. Thank you Sanctuary Float Spa.
* Directly from Sanctuary Float Spa website. Not paid promotion.
https://www.sanctuaryfloatspa.com/