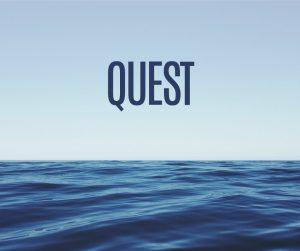 Today's renewal focuses on speaking your truth or your throat chakra. 
At the core of the throat chakra is our ability to communicate with the world around us and what "truths" we are speaking.
The word we are focusing on is a quest, a journey, your journey. We are all on a quest or our own personal journey in life.  In terms of your own quest, are you speaking the truth about your journey?  You have no one to impress, this is not your 10-year high school reunion. Every word we speak we are spreading seeds. Seeds of honesty produce growth and bear much fruit. Be honest with yourself and focus on the path you are already standing on rather than the path you wish you were on.
Daily renewals are meant to be utilized as ten-minute writing prompts for self-discovery. The colors are in relation to chakras. More information can be found here: Enlightenment